Amboise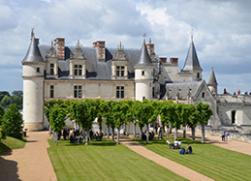 The magnificent Chateau d'Amboise overlooks the tranquil Loire River, providing one of the finest panoramic views in the Loire Valley. 
History of Château d'Amboise
The history of the Château d'Amboise dates back to the 11th century, when the Count of Anjou built the castle on the promontory, surveying the Loire River, as a defence strategy. Between the 15th and 16th centuries (the Renaissance period), under the orders of Charles VII, Louis XII and Francois I, the castle was refurnished. Its magnificent facade can be attributed to Charles VIII and Francois I, and their love for Italian art and style.
It was because of this passion for Italian art that Francois I invited Leonardo Da Vinci to come and reside in Amboise as his first painter, architect and engineer. Da Vinci arrived in 1516 and spent the remaining three years of his life living and working in the nearby Chateau du Clos Lucé (connected to the royal chateau by an underground passage). Leonardo Da Vinci died in Amboise in 1519 and was buried in the Chapel of Saint-Hubert (on the ramparts of the Chateau d'Amboise).
During the Wars of Religion, Amboise became the site of a more tragic event. In 1560, when a Protestant plot against Francois II was discovered, 1200 Protestants were slaughtered and hung around the city. It was after this event that the Court departed from Amboise, and the city and its enchanting chateau gradually deteriorated.
Today, whilst much of the original castle has been destroyed, the castle's architecture and elegant display of Gothic and Renaissance furniture provides an impressive reminder of its rich history. Visitors can enter the Chapel of Saint-Hubert where Leonardo Da Vinci is buried, as well as tour the royal apartments. From the castle's beautiful gardens, visitors can witness one of the most stunnng views of the city of Amboise, the Loire River and its tranquil surroundings.
RiverLoire includes the private guided visit of the Château of Amboise in some of our tours such as our Loire Gourmet Tour, our Fully Guided Loire Valley Tour...  Please don't hesitate to get in touch with us to make sure we have included your favorite castle in your personalized itinerary.