Cheverny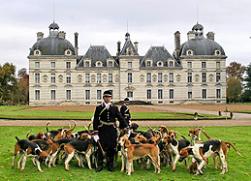 The Hurault family's classical Chateau de Cheverny was built between 1620 and 1634 on the site of a preceding castle.
History of Château de Cheverny
At one stage during the castle's history, it was home to Diane de Poitiers, the mistress of Henri II. However, due to her preference for the Chateau de Chenonceau, Diane sold the chateau back to the Hurault family, to whom it still belongs.
The pale tufa facade and refined lines of the Chateau de Cheverny are stunningly beautiful and slightly varied from the other chateaux of the Renaissance period. The design of the chateau was new during the 17th century; the chateau possessed no defensive features, such as tall turrets or difficult accessways, as did many other chateaux of the Loire Valley.
The Chateau de Cheverny is said to have inspired Belgian writer, Hergé, to create the Marlinspike Hall (Château de Moulinsart) in his comic, The Adventures of Tintin. Visitors can observe the similarities between Cheverny and its fictional imitation; specifically the castle's central and winged areas.

Today the Chateau de Cheverny is one of the finest touristic attractions in the Loire Valley. The castle's meticulously decorated interior exhibits a range of artworks by Titian, Hyacinthe Rigaud and Jean Clouet, as well as fine tapestries by David Teniers. The king's bedroom and the dining room are especially exquisite; as is the large collection of weaponery in the Salle des Armes.
Between April and mid-September visitors can witness the feeding of the castle's 70 hounds; and, during winter, partake in the Cheverny hunt which occurs twice per week. A perfect place to discover the wildlife and nature of this splendid region. Come and experience the adventures of the Chateau de Cheverny!
RiverLoire includes the private guided visit of the Château of Cheverny in some of our tours such as our Family Loire Valley Tour, our Fully Guided Loire Valley Tour...  Please don't hesitate to get in touch with us to make sure we have included your favorite castle in your personalized itinerary.