Normandy tour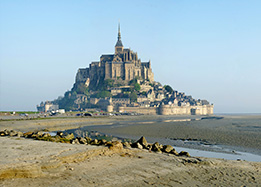 Highlights: Sightseeing - Free time 
Duration: 3 days / 2 Nights
Date: All year long
Transportation: Private deluxe car with your guide.
Accommodation: 5* Hotel.
Additional service: Private transfer back to Paris or elsewhere (on the last day).
 
Overview
This private tour will give you the opportunity to discover the beauty of Normandy's coastline, the charm and moving history of the towns and the famous landing beaches.
You will visit the Mont Saint-Michel, "Wonder of the Western World" which rises up from the middle of an immense bay, enveloped by one of the greatest tides in Europe. Then discover the Normandy landing beaches with amazing insight into an important part of the French history, after a stop at Bayeux with the visit of the Bayeux Tapestries. 
The tour will end in the city of Caen, founded by William the Conqueror in the 11th century. Three key sites in the city hark back to this period, giving it an emblematic identity : the Castle, the Men's Abbey and The Ladies'Abbey.
This tour can be fully customized to suit individual interests and schedules. It can start from the Loire Valley and end in Paris or start in Paris and end in the Loire Valley.
---
Itinerary
Day 1: Discovery of the Mont Saint-Michel
Your private guide will drive you from Paris to the Mont St Michel, the "Wonder of the Western World". You will spend all day to appreciate this beautiful site and admire the outstanding view over the bay when going down the ramparts path. Dinner and night at your 5* hotel in Cabourg near Caen.
Day 2: Bayeux and D-day beaches
Private transfer with your guide to Bayeux with visit of the Bayeux Tapestries listed as a "Memory of the World" by UNESCO. Then, you will tour the famous Normandy landing beaches: Omaha Beach, American Cemetery, Pointe du Hoc. Dinner left free and night at your 5* hotel in Cabourg near Caen.
Day 3: City tour of Caen and free time
Half guided day tour of the city of Caen with the château built by William the Conqueror, its numerous shops and charming pedestrian streets. Lunch left free. Free time in Caen. End of the tour in Normandy.
---
Price & inclusions
Price starting from € 1 680,00 per person (€ 3 360,00 for a party of 2 people).
Subject to availability at the time of the booking.
It includes:
2 Nights in a 5* Hotel in Cabourg (near Caen).
Breakfast daily.
1 gourmet dinner without drinks.
All private transportation and transfers (except the last transfer).
2 full day private tours with an English speaking guide.
1 half day private tour with an English speaking guide.
All the entrance fees of the sites listed in the itinerary.
RiverLoire assistance.
Fees and taxes.
---
Testimonials
---