Paris tour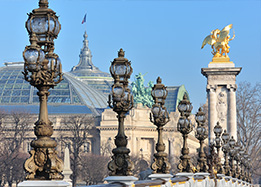 Highlights: Sightseeing - Free time 
Duration: 3 Days / 2 Nights
Date: All year long
Transportation: Use public transportation during your stay in Paris.
Accommodation: 5* hotel ideally located in Paris.
Additionnal service: Private transfer by car.
 
Overview
This three-day stay has been conceived as an introduction to the French Capital, the perfect way to start or finish your trip to France.
From the historic to the artistic Paris, it offers an overview of the capital's highlights: the Louvre museum, Montmartre, Les Champs Elysées, the Arc de Triomphe, Les Invalides, the Eiffel Tower, Notre Dame... Enjoy the opportunity to dine on the Seine River on board a "bateau mouche" and why not, spend an evening at "the Moulin rouge".
This tour can be fully customized to suit individual interests and schedules, specially if you are already familiar with Paris.
Check our "Paris à la carte" section for more ideas.

---
Itinerary
Day 1: Artistic Paris
Arrival in Paris in the morning. Full day private guided tour of the Louvre museum, Jardin des Tuileries and then discover the lovely Montmartre and its charming streets with a private English speaking guide. Special evening at the Moulin Rouge for a gourmet dinner and the magical show.
Day 2: Prestigious Paris
Full day private tour of the most prestigious monuments and streets of Paris from Les Champs Elysées to Les Invalides with a private English speaking guide. Dinner on board a "Bateau Mouche" for an unforgettable Seine river cruise.
Day 3: Historical Paris and free time
Half day private tour of the historical 'quarters' with a visit to Paris's famous Notre Dame Cathedral with a private English speaking guide. Afternoon left free with suggested places to visit or shopping areas.

---
Price & inclusions
Price starting from € 1 860,00 per person (€ 3 720,00 for a party of 2 people).
Subject to availability at the time of the booking.
It includes:
2 Nights in a 5* Hotel in Paris.
Breakfast daily.
2 full day private tours with an English speaking guide.
1 half day private tour with an English speaking guide.
A travel pass "Paris Visite" for 3 consecutive days (for the whole public transport network in Paris zone 1 to 3).
1 gourmet dinner.
A river cruise on a "Bateau Mouche".
1 gourmet dinner on a "Bateau Mouche" with drinks included.
The show at the Moulin Rouge.
1 gourmet dinner at the Moulin Rouge with a half bottle of champagne.
All the entrance fees of the sites listed in the itinerary.
RiverLoire assistance.
Fees and taxes.
---
Paris à la carte
- 1 day around French gastronomy: 
You will start the day by the visit of the open air local market in Paris then prepare and eat a 3 course meal with the Chef ! You will learn, during this 2 hour cooking class, different techniques, recipes to reproduce... and you will share your lunch all together in a friendly atmosphere.
- Chocolate walking tour:
Any foodie or chocoholic's dream, explore the streets of Paris with a completely different outlook - while tasting some of the most luxurious names in the Chocolate industry. Learn about the many forms and characteristics of chocolate and how the French make use of this decadent treat - from beautiful chocolate structures to the art of making the perfect ganache.
- Macaroon walking tour:
Ever wondered what all the fuss is about? Get to experience first-hand why macarons are of the world's most popular desserts and why they are feared by many chefs. Discover a route of unimaginable flavours in a rainbow of delicate colours as you explore the most exquisite macaron houses and producers in Paris.
- 1/2 day cycling tour in Paris:
You don't have to be 'Tour-de-France' ready to enjoy this privately guided cycling tour through the vibrant and charming streets of lesser known Paris. Discover hidden gems and ancient ruins while encountering unusual street art and the charm of The Marais, you might even find yourself passing through a scene from a movie.
- Discover Paris in a 2CV:
Whether you want to go back in time or simply looking for a new way to explore Paris. Discover the most famous sights of Paris (day or night) and the charming bistro lined streets, all in a classic 1950's vintage French car, the Citroën 2CV. 
- Paris painting tour:
Whether you are a closet artist or just looking to learn a new skill, this painting tour accompanied by an artist might just be what you have been looking for. Fun and educational, while being surrounded by some of the world's greatest sights at the same time. The real Montmatre experience, all the great names once found their inspiration in this area and maybe even at the exact position you have chosen!
- Helicopter flight over Paris and Versailles:
For the more adventurous, enjoy spectacular views of Paris and its' most famous sites as well as a bird's perspective of the beautiful Versailles Palace and Gardens, all from the comfortable seats of a first class helicopter. Learn more about helicopters, a photo opportunity with your pilot and appreciate Paris from an angle that few get to experience. Definitely photos one the ground will be jealous of!

Prices on request.
Please contact us for more information.
---