Full wine tour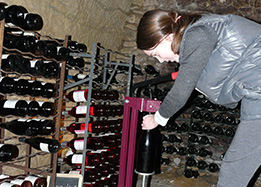 Highlights: Wine - Life style - Free time
Duration: 8 days / 7 nights or 4 days / 3 nights 
Date: All year along
Transportation: Fully chauffeured private luxury car with your guide
Accommodation: 4* Hotel downtown Amboise
 
Overview
Even if more confidential than Bordeaux or Burgundy, the Loire Valley is France third most important winemaking region. This land of balance - between North and South, smooth suavity and crisp freshness, art and literature, tradition and modernity-, furthered by a mild climate and rich soils, has brought forth of the most vibrant diversity of wines. Loire Valley wines include 65 appellations, from red to white and rosé, from still to sparkling, from sweet to dry and everything in between...
The 8 day / 7 night tour stretches accross the wine valley along the Loire (starting in Angers and ending in Sancerre), allowing you to truly understand and experience the diverse expression which the Loire Valley wines has to offer.
The 4 day / 3 night tour covers the main part of the Loire Valley wine district allowing you to taste some of the best regional wines.
Both tours will give you a great overlook of the best "crus", but also allow you to visit some of the highlights of the region. Combined with fine food and comfortable accommodations, you may never want to leave the Loire Valley at the end of your trip…
The following tour is just an example of itineraries that we have designed for our clients. Feel free to ask more information about it, or to have your own tour design according to your taste.

---
Itinerary
The 8 day / 7 night will cover the full itinerary, whereas the 4 day / 3 night tour will be made up of day 3 to 6. Although both tours are open to customization.
 
Day 1: Arrival in Angers
The tour will start in Angers with an introduction to the Loire Valley wines: appellations, grape varieties, characteristics…
Day 2: Angers and the Anjou wines
After visiting the city of Angers, start your wine exploration by the coteaux du Layon, a white sweet wine and the Anjou wines (red, rosé).
Day 3: Chinon and Bourgueil
Today is dedicated to the red wines of Chinon and Bourgueil, on the South and North bank of the river. While in the area, don't miss the Abbaye of Fontevraud, a royal abbaye of the 12th century.
Day 4: Garden escape
No wine tasting today! For a change, you will spend the day between gardens and castles… But nothing prevent you to choose a good bottle of wine to accompany your dinner…
Day 5: A unique experience around Vouvray wines
Some tourists just taste the wine, but you are going to "experienced it". Be ready to "see" and "touch" it, in a style offered to few travelers, and in places open only to RiverLoire guests. The perfect way to enjoy the wine of Vouvray… and some more.
Day 6: The Ladies Castle… and wines
Today is a day dedicated to femininity! To start with, you will visit Chenonceau, also called the "Ladies castle" in memory of Catherine de Medicis. Then you will travel East to Sancerre and Pouilly and their white "women's" wines.
Day 7: Sancerre and Pouilly
Enjoy the atmosphere of these little towns, surrounded by vineyards and an exceptional landscape. Don't miss the goat cheese of Chavignol, the perfect match to the wines.
Day 8: Bye Bye Loire Valley
Time to pack and say good-bye! We hope you discovered some wonderful new wines and are bringing back home a little bit of our region…

---
Price & inclusions
Price for the 8 day / 7 night tour starting from € 4 267,00 per person (€ 8 534,00  for a party of 2 people).
Subject to availability at the time of the booking.
It includes:
2 Nights in a 4* Hotel in Angers.
3 Nights in a 4* rated Château Hotel nearby Tours.
2 Nights in a 3* Hotel in Sancerre.
Breakfast daily.
All private transportation and transfers with an English-speaking guide throughout your stay, with periods of free time.
3 Lunches with drinks included (Days 4, 5 and 6).
​3 Lunches without drinks (Days 2, 3 and 7).
4 dinners without the drinks in selected restaurants (Days 1, 3, 6 and 7).
The entrance fees and the private guided visits of the Castles and gardens of Angers, Fontevraud Abbey, Azay le Rideau, Villandry and Chenonceau.
The visit of a privately owned castle.
The privately guided visits of the wine cellars listed above with wine tastings and the access to a private property including wine and cheese tasting and wine bottling (with a special label...).
Privately guided walking visits of the towns of La Charité sur Loire and Sancerre and its vineyards.
The visit of a cheese shop.
Riverloire local assistance.
Fees and taxes.  
---
Testimonials
---