Semi guided Loire Valley Tour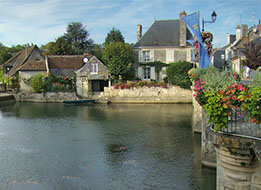 Highlights: Castles & Gardens - Life style - Wine & Gastronomy - Freedom to explore
Date: All year along
Transportation: Fully chauffeured private luxury car with your guide / your own car
Accommodation: 4* hotel, downtown Amboise or Relais & Châteaux
 
Overview
This itinerary combines expertly-led tours of the best wineries of the region (to allow you to taste the wines without driving) with freedom to explore the highlights of the Loire Valley (with maps and recommendations of our team).
On the self-guided days, you will drive your own car and visit at your own pace the sites that we have selected for you. Thanks to your pre-booked tickets you won't have to wait in line.
On the fully-guided days, your guide will pick-you up at your hotel and drive you around in our deluxe vehicle.
We will of course take care of your hotel and organize most of your diners and lunches.
The itinerary can, of course, be adjusted to your needs and tastes, with more or less guided periods and a choice of accommodation form a down-town 4* hotel to a countryside Relais & Chateaux hotel.

---
Itinerary
Day 1: An introduction to the Loire Valley (fully guided)
After a personal welcome during your lunch, let your guide drive you through the vineyards of the Loire Valley to visit selected cellars and taste vintage wines. End your day in Amboise with the visit of the castle and pick-up your car for the next days.
Day 2: Elegant Loire Valley castles (self-guided)
Visit the chateaux of Chenonceau and Chaumont at your own pace, walk through their gardens and parks and make a stop for a royal lunch in Chenonceau premises.
Day 3: Renaissance castles and gardens (self-guided)
Head east toward Villandry, Azay-le-Rideau and Usse castles for an enchanting day along the Loire River. Make as many stops as you'd like for pictures and pick your place for lunch and dinner, as today is a total free day!
Day 4: Walking tour in Tours and a wine experience (fully guided)
Give back your car and let your guide drive you to Tours. Plunge with him/her into the French way of life, browse the medieval and renaissance area, shop around and have lunch surrounded by 1000 year old houses. In the afternoon, be ready for a wine "experience" in a secluded place, open only to RiverLoire guests.
Day 5: Leonardo da Vinci (self-guided)
Don't leave Amboise without visiting the Clos Lucé, the last residence of the Italian master and taking a last stroll around the renaissance town. Your guide will drive you back to the train station.

---
Price & inclusions
Price starts from € 2 110,00 per person on a basis of 2 people
Subject to availability at the time of the booking.
It includes:
4 nights Hotel accommodation.
Daily breakfast.
3 Lunches with drinks included.
2 Dinners, drinks not included.
2 fully guided and transported half day wine tours with a private English-speaking guide.
A guided visit of the chateau d'Amboise.
A guided visit of the town of Tours.
All the entrance fees of the castles listed in the itinerary.
The private transfer to and from the train station.
The pick-up and drop-off at the car rental company.
Riverloire local assistance.
Fees and taxes.
---
Testimonials
---