French cooking class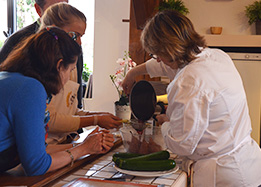 Duration: 2 hour class followed by the tasting
Tasting: "Apéritif" (4 different pieces according to your taste) or a 3-course meal
Date: All year long
 
Overview
In 2010, French Gastronomy has been added to the world intangible heritage list.
From the "aperitif" to the "desserts", our private French chef will teach you (in English) how to prepare freshwater fish, to roast game meat, to bake a tarte tatin or to fix a French aperitif…Once the menu has been decided, just put your apron on, and after a 2 hour class you will be a real chef! The class is suitable for anybody and children are welcome. It takes place in the kitchen of a privately owned property that opens its doors exclusively to RiverLoire clients. For those staying at VillaConcorde, our rental apartments in Amboise, the chef can also come directly to your kitchen.
Each class is followed by a tasting: an "aperitif", a "café gourmand" or a 3 course meal served with the best wines of the property.
Tell us what you would like to cook and we will organize the class accordingly. A fun and fantastic experience to be shared with your travel companion(s) or your family!

---