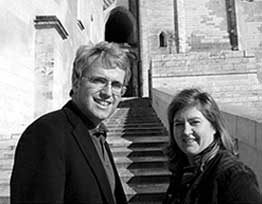 RiverLoire, a specialized luxury tour operator agency, was established in 2007 in Amboise, the heart of France.
The owners, Karine and Thierry Micalet, both have profound international experience in the travel industry and have a passion for creating tailor-made, exclusive holidays and private guided tours.
Upon returning to their native region, the Loire Valley, after several years abroad, they noted that there were no specialized tours available for their friends visiting from abroad. Riverloire was created to address this need and is still today the only travel agency, exclusively dedicated to luxury travels in the Loire Valley.
RiverLoire offers a full range of services:
Why Riverloire?
At RiverLoire, we strive to provide our clients with the very best luxury services the industry has to offer. We have therefore hand-picked only the finest accommodation, restaurants, wine makers and local producers to be at your disposal during your stay.
We are the individual and small group specialists and all tours are fully private in order to guarantee the utmost quality and personal satisfaction. RiverLoire will offer you unique experiences, not normally accessible to people outside of the region - such as visiting a private castle outside of normal visiting hours or tasting wine with the wine maker and cellar master in a private cellar.
Not only will we strive to provide you with a one of a kind experience, but will also customize your luxury tour to accommodate your interests and requests, and make the most out of your time spent in the Loire Valley.