Garden tour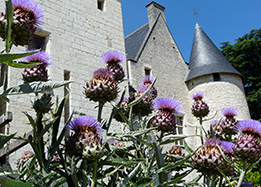 Highlights: Gardens grand tour - Wine & Gastronomy - Free time
Duration: 6 days / 5 nights
Date: From mid-April to mid-October
Transportation: Fully chauffeured private luxury car with your guide
Accommodation: Deluxe Chateau hotel surrounded by gardens and nature
 
Overview
The Loire Valley is like a single garden made up of individual spaces, combining the local nature's bounty to the gardeners' skills. No wonder that Rabelais or Ronsard, renowned French authors, celebrated the area as the "garden of France".
The tour we have imagined, will take you to some of the most famous gardens, often surrounding famed castles, but also to more confidential ones, including some located in private properties that only open their doors to Riverloire guests. But Mother Nature also dotted the Loire Valley with an abundance of variety of vines that you will visit and… taste.
During your stay, we suggest you to stay in a family owned castle, converted into a luxury hotel, renowned for its 2-hectare vegetable garden and its unique collection of over 500 tomatoes carefully grown by the CCVS (Specialized Vegetables Collection Conservatory). Don't miss the homemade tomato tart and jam!
This program has been elaborated with the help of our garden lover clients, but as all our tours are custom made, we will be happy to accommodate any specific request.

---
Itinerary
Day 1: Arrival in the Loire Valley
The tour will start with a scenic drive across the vineyards of Vouvray, and its forest but also the visit of some typical cellars and your first wine tasting.
Day 2: Chenonceau and Amboise
With Amboise and Chenonceau, you will witness how nature can enhance the beauty of the Renaissance architecture, but also discover the exquisite work of Chenonceau's team of flower girls to grace the chateau with seasonal flower displays.
Day 3: A day for your senses
From the Chateau du Rivau and its 12 gardens evoking famous fairytales to the Chateau Villandry and its amazing leveled gardens, today all your senses will be exhaled. A couple more stops will complete this journey with more exceptional views and gastronomy.
Day 4: Chaumont sur Loire and Cheverny
Chaumont is known worldwide for its international Garden festival that runs from mid-April to mid-October. After wandering through the 25 elaborate gardens arranged around the theme of the year, visit the Chateau of Cheverny, the most magnificently-furnished of all the Loire castles.
Day 5: Wine and Roses
Some tourists just taste the wine, but you are going to "experienced it". Be ready to "see" and "touch" it in a style offered to few travelers and in places open only to RiverLoire guests. In the afternoon, take a walk to the Prieuré de Saint Cosme that for 20 years has been home to the famous medieval poet Ronsard and its beloved rose gardens.
Day 6: Last day in the Loire Valley
Enjoy your last morning in your chateau and shop for jams, mustards and other traditional products at their boutique before leaving the Loire Valley.

---
Price & inclusions
Price starting from € 2 880,00 per person (€ 5 760,00 for 2 people)
Subject to availability at the time of booking.
It includes:
5 Nights in a Chateau Hotel.
Breakfasts daily.
5 lunches in outstanding places with drinks included.
All private transportation and transfers with a private English-speaking guide throughout your entire stay, with periods of free time.
All the entrance fees for the chateau of the Loire castles and gardens listed (Chenonceau, Amboise, Clos Lucé, Rivau, Azay-le-Rideau, Villandry, Chaumont-sur-Loire, Cheverny and Prieuré de Saint Cosme).
The visit of a privately owned castle.
A private visit of outstanding wine cellars with wine tasting.
A private visit of a private property with wine tasting and where you will get the chance to bottle your own wine...
A river cruise on the Cher River.
A suggested walking itinerary of the town of Amboise.
RiverLoire local assistance.
​Fees and taxes. 
---
Testimonials
---