Chenonceau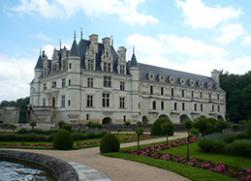 The Chateau of Chenonceau, "the Ladies Castle", is one of the most visited castles in France and is considered by many to be the loveliest. 
History of Château de Chenonceau
Château de Chenonceau, a 14th century royal residence, is one of the most famous castles of the Loire valley and bears testimony to the sophisticated life led by its residents through showcasing the affluence of its collections, furnishings and decoration. The Chateau of Chenonceau tells the story of the exceptional women that loved, ran and protected the property through its history.
Over the centuries, this Renaissance building has been transformed by various ladies from a humble dwelling into a majestic palace - among which includes Diane de Poitiers and Catherine de Medicis.

The castle itself boasts exquisitely furnished rooms with Flemish tapestries dating back to the 16th century, and a truly magnificent chapel. Visitors can discover the history of the castle with the waxwork museum and enjoy a fine meal at the semi-gastronomic restaurant in the old stables. They can also experience a miniture train ride down the lovely tree-lined drive or purchase wine cultivated in the vineyards of Chenonceau.
The remarkably designed castle of Chenonceau has been an inspiration to many artists over the centuries, especially the impressive structure and arches of the wing crossing the Cher River. The grounds of the chateau will transfer you to a tranquil paradise of beautiful colors to be discovered behind perfectly trimmed hedges and fruit trees, followed by the private vineyards and the enchanting forest on the boarder of the property.
RiverLoire includes the private guided visit of the Château of Chenonceau in some of our tours such as our Loire Romantic Tour, our Fully Guided Loire Valley Tour...  Please don't hesitate to get in touch with us to make sure we have included your favorite castle in your personalized itinerary.