Blois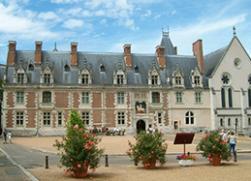 Residence of 7 kings and 10 queens of France, the Royal Chateau of Blois is a site reminiscent of the power and daily life at court in the Renaissance.
History of Château de Blois
The chateau features three unique wings: the Louis XII wing- a 15th century gothic style building with a mix of red bricks and white stone, the Francis I wing on the other hand represents pure Renaissance style, with architecture and ornamentation marked by Italian influence, and the third wing known as the Duke of Orléans wing is classic 17th century and also faces the courtyard.
The staircase on the exterior of the Francis I wing, is a remarkable piece of work, covered with ornate Renaissance sculptures, Italian decorative detail (statues and banisters) and royal emblems.

On the inside, royal apartments furnished and embellished with magnificent polychrome decorations, provides insight into the luxury enjoyed by the royals and their guests.
In 1845, it was the first historical residence to be restored and acted as a model for the restoration of many other chateaux. Today, the chateau is home to the Museum of France with more than 30 000 pieces of French art, ranging from fine art to Renaissance furniture.