Langeais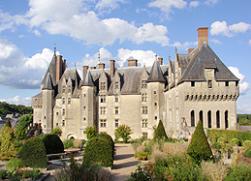 Chateau Langeais has one of the oldest stone keeps in France dating back to the year 1000. The keep and ruins of the time is now clad in reconstructed medieval scaffolding as a representation of construction techniques and equipment from the time.
History of Château de Langeais
In 1465 Louis XI ordered the construction of the royal chateau. He wished to have a building where, from the top of its towers the right bank of the Loire could be kept under surveillance. The majestic façade with its sentry walk, towers, and a drawbridge on the town side was the result of this surveillance strategy. 
Within the inner courtyard, decorated windows pierce the stone facade giving signs of a pleasantly refined residence, and making way for the subtleties of the Renaissance.

The walls of the chateau bore witness to the marriage of Charles VIII and Anne of Brittany in 1491, scenes from this important part of French history can be observed in the chateau as well as reconstitutions through special lighting effects that recreates the atmosphere and organization of a great lordly residence.
After extensive damage during the Hundred Years' War, King Louis XI rebuilt and restored Château de Langeais into what today is one of the best known examples of late medieval architecture. It is especially noted for its monumental and highly decorated chimney pieces.
RiverLoire includes the private guided visit of the Château of Langeais in some of our tours such as our Family Loire Valley Tour, our Fully Guided Loire Valley Tour...  Please don't hesitate to get in touch with us to make sure we have included your favorite castle in your personalized itinerary.