Azay-Le-Rideau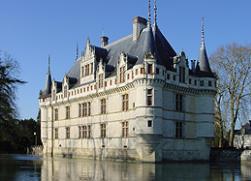 One of the masterpieces of the early French Renaissance, set on an island in the middle of the Indre, the château seems to rise straight out of the waters of the river.
History of Château d'Azay-le-Rideau
During the reign of Francois I, 1514 to 1527, reconstruction work of the château began in an attempt to reconcile the French art of building with Italian-style architectural forms and ornamental decoration.
The large tower, which was part of the original fortress, remained standing until 1845 when it was replaced by a neo-Renaissance style tower. A Chinese pavilion that had been built around 1825 was also replaced in 1856 by a smaller tower on the north-east side. The addition of these two towers post revolution damage, gave the château the finished look we recognize today.
After multiple changes of hand the chateau was finally bought by the state in 1905.

The interior of the Château of Azay-le-Rideau remains that of a French Renaissance château with Italian inspiration. The center of the building stands out for its monumental entrance hall, as well as the grand staircase with its large banisters connecting three floors, each with bay windows, forming mezzanines and a finely wrought pediment.
On the walls of the rooms, there are 16th and 17th century tapestries. The furniture and the decor are equally rich with magnificent pieces of furniture and paintings in all of the rooms, among which are numerous royal portraits.
Inside, there are 16th century rooms, the royal apartment, and drawing-rooms that were decorated in the 19th century in Neo-Renaissance style.
RiverLoire includes the private guided visit of the Château of Azay-le-Rideau in some of our tours such as our Cycling Loire Valley Tour, our Semi Guided Loire Valley Tour...  Please don't hesitate to get in touch with us to make sure we have included your favorite castle in your personalized itinerary.