Chambord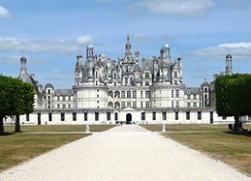 The Chateau of Chambord, the largest of all the Loire Valley castles, was built by François I, and is surrounded by an immense park and hunting reserve.
History of Château de Chambord
n 1519, under the instruction of King Francois I, the original manor was demolished and the construction of Chambord castle begun. The design is suggested to have been initiated by Leonardo Da Vinci, and the location, amongst the Boulogne Forest, served as a perfect hunting lodge for the king.
In 1537, 18 years after its initial construction, the castle keep, with its towers and terraces was completed by 1800 men and 2 master masons. Francois I later ordered the erection of a royal pavilion on the castle's northeastern corner, with a connecting two-storey gallery, and at one stage contemplated diverting the Loire River to flow directly in front of his chateau. Henri II, his son, initiated the building of the castle's west wing, housing the chapel; and later in 1685, Louis XIV completed a 440 roomed extension.

By the 17th century, Chambord consisted of 440 rooms, 365 chimneys, 14 main staircases and 70 smaller staircases. The key features of the magnificent Chateau de Chambord include the grand staircase and the remarkable skyline.The innovative staircase was designed by Leonardo Da Vinci, consisting of two separate flights of stairs spiralled around each other. It is possible for two people to enter the two staircases at the base and not see each other until they reach the very top. The castle's skyline is its most distinctive and astonishing feature, with a central lantern tower reaching 32m high and roof terraces with stunning spires, turrets and sculptured gables. 
The grand estate of Chambord covers 1000ha of oak trees, pine groves, moors, swamps and magnificent clearings. The vast forest is open to visitors who wish to discover the national wildlife reserve by foot, bike or horseback. All year-round visitors can access observatories set up for viewing wild animals. The beauty and magnificence of Le Chateau de Chambord is breath-taking and is a 'must-see' for all tourists visiting the Loire Valley on either a short break or an extented holiday.
RiverLoire includes the private guided visit of the Château of Chambord in some of our tours such as our Loire Photo Tour, our Fully Guided Loire Valley Tour...  Please don't hesitate to get in touch with us to make sure we have included your favorite castle in your personalized itinerary.