Villandry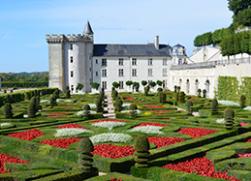 The classical Château de Villandry, of the late Renaissance period, further reinforces the Loire Valley as the Garden of France.
History of Château de Villandry
The large estate of chateau Villandry, one of the finest chateaux in the Loire Valley, is located right at the confluence of the Loire and Cher rivers. The elaborate estate gardens are proof that the Loire Valley truly is the "garden of France".
The chateau was constructed and lived in by Jean Le Breton, Minister of Finance for François I, who had a keen eye for construction due to the supervision of multiple architectural sites. The pure French style chateau was admired for its avant-garde architectural design, displaying great symmetry and elegance in its simplicity. The delicate and ornamental gardens allowed for a natural flow between the property and its herbaceous surroundings.

The stunning chateau is most famous for its spectacular gardens, where the skilful hands of its gardeners turn vegetable gardening into an art form.
The 16th century garden designs reflect that of a typical Renaissance garden, encompassing a fine mix of flowers and vegetables in precise geometrical forms. The garden is designed with 3 distinct levels. A water garden on the top level, a stunning flower garden on the same level as the magnificent chateau, and the world's largest kitchen garden on the lower level. The astonishing kitchen garden is sure to impress anyone with an interest in vegetable gardening and will prove to be the most incredible vegetable garden you are ever likely to see.
RiverLoire includes the private guided visit of the Château & Gardens of Villandry in some of our tours such as our Loire Valley Garden Tour, our Semi Guided Loire Valley Tour...  Please don't hesitate to get in touch with us to make sure we have included your favorite castle in your itinerary.