Clos Lucé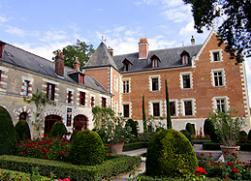 The Château du Clos Lucé, near the Chateau d'Amboise, was built in the mid 15th century during The Renaissance. 
History of Château du Clos Lucé
Originally occupied by Charles VIII, and later Francois I, the chateau itself is most widely recognised as the manor house where Leonardo Da Vinci spent the remaining three years of his life.
In 1516, upon the invitation of Francois I, Leonardo Da Vinci came to Amboise to contribute to the royal court and be the first painter, architect and engineer to the king. Francois I settled Da Vinci in the Clos Lucé where he lived until his death in 1519. Whilst living in Amboise, Da Vinci continued his artistic practice and scientific explorations; and it is believed that, whilst under the king's service, Da Vinci designed the Chateau de Chambord.

Today the Chateau du Clos Lucé provides a superb insight into the life and avant-garde works of Leonardo Da Vinci. The use of visual and sound effects leads visitors into this historical world. On display are 40 models of his remarkable inventions (such as a parachute, a tank, a helicopter and the first automobile) and large images and videos, reflecting the many brilliant facets of Da Vinci in the fields of art, architecture, science and engineering. Da Vinci's bedroom, workshop, and kitchen can be visited by the public, as well as a small chapel built by Charles VIII for Anne of Brittany.
RiverLoire includes the private guided visit of the Château of Clos Lucé in some of our tours such as our Family Loire Valley Tour, our Fully Guided Loire Valley Tour...  Please don't hesitate to get in touch with us to make sure we have included your favorite castle in your personalized itinerary.