Vouvray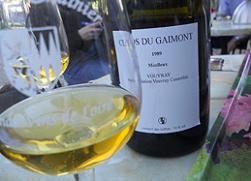 Vouvray is the largest white wine appellation of the Anjou-Saumur-Touraine region and it produces splendid wines from dry and austere to the richest dessert wines, as well as excellent sparkling wines.
Background of Vouvray wine
Vouvray is made exclusively from Chenin Blanc, which has been grown in the region since the 4th century. The flint-clay, and limestone-clay soils lie on top of tuffeau, the limestone used to build the many châteaux of the surrounding countryside. The cool climate insures good acidity, which is balanced by the distinctly fruity character of the Chenin Blanc, and the mineral qualities imparted by the soil.
On average, 60% of each vintage is made into still wine and 40% is made sparkling. Sweet Vouvray is not usually made from grapes that have been allowed to remain on the vine until overripe and shriveled by the sun and wind, so the percentage of dry to sweet wine depends on each year's growing conditions. In a cool year, only dryer wines are made but in years where warm weather continues into fall, harvest for sweet wines is delayed until well into November (the latest harvest in France) and there may be several pickings in order to harvest the grapes at their moment of optimum ripeness.
Vouvray can age magnificently for decades and has been known to remain in prime condition for more than a century. The wine develops richness and depth over time but will never lose its fresh and fruity character. Sparkling Vouvray shows all the qualities of the still wines but with an even more pronounced flavor of minerals. It is an excellent aperitif, but also an ideal sparkling wine to drink with a meal.
RiverLoire organizes private guided visits of wine cellars with wine tasting in some of the nicest wineries and vineyards of the Loire Valley. Feel free to have a look at our Full Loire Wine Tour or our Day Wine Tour in the Loire Valley.