Bourgueil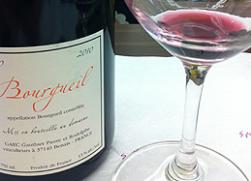 The vineyards of Bourgueil, on the north bank of the Loire River lies between Saumur and the city of Tours, are planted mostly to Cabernet Franc, with a small amount of Cabernet Sauvignon.
Background of Bourgueil wine
Vines have been cultivated here since Roman times, but the founding of the Abbey of Bourgueil, in 990, marked the beginning of the development of viticulture and wine making.
The vineyards are planted on two kinds of soil: lighter, warmer soils with high percentages of sand and gravel yield supple, fruity wines that can be drunk young; and vineyards on the south-facing hillsides where the soil contains more clay and limestone yield richer, earthier wines that take longer to reach their full potential.
Most of the wines are red, although there is some rosé as well. The vineyards benefit from being open to Loire, which carries the Atlantic's regulating influence inland. The slopes are south facing, with forests that protect vines from harsh north winds, creating a moderate climate for producing some of the best Cabernet Franc wines.
RiverLoire organizes private guided visits of wine cellars with wine tasting in some of the nicest wineries and vineyards of the Loire Valley. Feel free to have a look at our Full Loire Wine Tour or our Day Wine Tour in the Loire Valley.