Chinon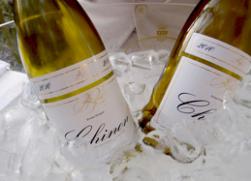 Chinon, located on the banks of the river Vienne, is known for its diversity of Cabernet Franc expressions - from light, fresh and fruity wines to dark, rich and complex wines.
Background of Chinon wine
The Vineyards of Chinon occupy 4,500 acres along the banks of the river Vienne. Rabelais, the great epicurean author, was born near Chinon and wrote in praise of its wines, insuring that their fame would spread. Although there is a small amount of white Chinon made from Chenin Blanc, and some rosé, the region is best known for its red wines. These are made entirely from Cabernet Franc, locally known as the Breton.
The vineyards are planted on two different types of soil that do much to determine the style of the wine. The sand and gravel soils of the vineyards on the river's flood plains produce, light, elegant wines for early drinking. The clay and tuffeau limestone soil of the hillsides produces full-bodied wines for long ageing. These wines are often from vineyards designated as "old vines." Although aging usually takes place in barrels, little fresh oak is used, emphasizing the character of the grapes.
Lighter bodied Chinon is a perfect wine for summer drinking. It is fruity and its refreshing acidity, the unifying characteristic of wines grown in cool climates, makes it especially appetizing when slightly chilled. Older, richer Chinon has much in common with other fine red wines. Tannic and closed in youth, it requires several years of bottle age before realizing its potential for richness and complexity. Although the wines will start to show their best qualities after five years, they can age for decades, developing earthy aromas that, as one highly respected Chinon producer puts it, remind one of "the depths of a forest after a storm."
RiverLoire organizes private guided visits of wine cellars with wine tasting in some of the nicest wineries and vineyards of the Loire Valley. Feel free to have a look at our Full Loire Wine Tour or our Day Wine Tour in the Loire Valley.