Weather in Tours:
Currently, there is no weather information available.
Weather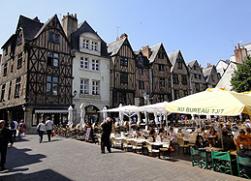 The Loire Valley's title as "The Garden of France" gives testiment to its beautiful mild climate, perfect for visitors discovering the region; never too hot, never too cold, and many of the activites provided in the Loire Valley are suitable for all seasons.
Part of our Loire Valley Tours, the Loire Photo Tour is perfect for Autumn and Winter seasons, the Loire Valley Wine Tour will give you the opportunity to witness the grape harvest in September and October, and the Loire Valley Garden Tour will give you the chance to appreciate blooming flowers in Spring and Summer and large veggie gardens in Autumn. Our fully guided tours are possible anytime of the year, according to your preferences.
 
Seasons in the Loire Valley
The popular summer season provides magnificent weather for discovering the Loire Valley doing a cycling Loire tour, by boat or exploring the natural wildlife reserves. Spring and autumn offer days which are still bright and warm. During winter it is rare for temperatures to fall below freezing due to Atlantic influences, making it quite pleasant for visitors. Snow falls are becoming frequent (the snow does not stay long due to the mild temperature) and the castles are magnificently dressed in white.
 
SPRING (End of March to end of June):
Spring welcomes sunny temperate days, beautiful shades of green and flowers coloring châteaux gardens and fields. Visitors can appreciate the natural beauty of the Loire Valley, the flowing waters of the rivers, and the migrations of birds, along other things. 
SUMMER (End of June to end of September):
Summer, although peak season in the Loire Valley, visitors can enjoy warm summer days for the most of summer and a very pleasant August, with the Atlantic influences allowing for moderate temperature conditions. The busy season can create crowded touristic sites but thanks to RiverLoire with pre booked tickets, there is no need to queue. Towards the end of June, most of the famous chateaux 'sound and light' show begin, and during July and August, many of the small towns and villages hold local fetes.
AUTUMN (End of September to December):
Perhaps autumn is the most pleasant season to visit the Loire Valley, as the forests beam red and gold in the mild sunshine. This is the golden season of the grape harvest, and the events and celebrations associated with it. During this time, there are less crowds to contend with when visiting the magnificent Loire castles.
WINTER (December to end of March):
Winter is a quiet season in the Loire Valley. Visitors can experience the festive beauty of Christmas markets and winter sales. The winters' refreshing cool weather, although rarely below freezing point, is perfect to enjoy cozy bistros and local cuisine and wine.