Hotels & Restaurants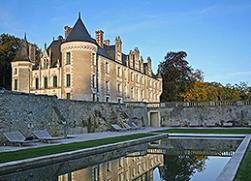 Through our numerous Loire Valley Tours, RiverLoire will give you the opportunity to experience the finest accommodation and restaurants of the region.
Hotels
When the French kings decided to build their royal castles in Amboise and in the Loire Valley in general, they were followed by the members of their court and end up building their own Loire castles or manors...
Chateaux Hotels:
Some of the most charming castles of the Loire Valley have been converted into 3 or 4 stars hotels, and a few combine a high level of services with superb facilities. Perfectly adapted to small groups (or bigger groups), most of these properties will provide our customers with a large panel of facilities such as swimming pool, tennis court, fitness room, rental bikes, spa facilities...Most of them will host gastronomic, semi gastronomic or gourmet restaurants. However if some of them are part of the "Grandes étapes Françaises", "Relais du Silence", "Relais & Chateaux",  some Chateaux hotels are actually privately owned and will proposed a more intimate atmosphere in a smaller edifice with less on site facilities but a higher personal touch, and personalized services.
Boutiques Hotels:
Generally small 3 star charming, 4 star or even 5 star properties, these hotels are generally a reconversion of old Manor Houses or small private castles with more limited facilities than the Chateaux hotels (some of them have however a swimming pool, fitness or spa facilities). They are offering high standing hotel services in an intimate atmosphere. Smaller by size than some of the Chateaux hotels, the properties are catering for individuals, for those who are looking for an authentic stay with hotels facilities without the crowd.
Bed & Breakfast:
The Loire Valley offers also splendid opportunities for you to stay in superb Bed & Breakfasts. Some are truly charming and a few are absolutely magnificent. It does not come as a surprise when one realises that more than 800 castles have been built along the river, due to the royal history of the Loire Valley. Most of them are privately owned and many of the smaller castles draw a significant source of revenue from their Bed & Breakfast activity. They do not have restaurants on the properties, however some of them are offering a "table d"hotes" (dinner with drinks included) with outstanding home made Loire cuisine.
Not only castles have been reconverted, you will find in fact a wide range of styles...such as ancient "tuffeau stone" queries (the room are build into the rock face - troglodyte houses), or high standard horse carriages, just to give a few examples. We believe that the choice of selected Bed & Breakfasts can still be an excellent option for visitors to stay in the Loire Valley, especially those who are looking for a deeper involvement in the local life or for families wishing for intimacy.
Luxury Holiday Rental :
If you want to feel like a king in his own castle (in a literal way) we have very exclusive places to rent, starting from a charming apartment in front of the royal castle of Amboise and up to a magnificent private castle.
 
Please contact RiverLoire to let us arrange your type of accommodation for your private Loire Valley tour.
---
Restaurants
Amongst the finest French castles, Loire Valley tours offers multitude opportunities to appreciate outstanding Loire cuisine.
Touraine is a thriving food region, where classic French Loire cuisine is much celebrated and fresh local produce is dominant in many restaurants.
In the Loire Valley and more precisely the Touraine, restaurants are generally serving lunch from 12pm and dinner from 8pm. They are many dinning options which will delight your palate going from the little cafés, brasseries and créperies, to the gourmet and gastronomic restaurants.
Cafés, brasseries and créperies are perfect for relatively quick meals. Cafés serve scrumptious snacks and coffee, whilst brasseries often serve a "dish of the day" or a "menu of the day". Créperies are specialised in offering French crepes, as well as offering fresh salads, a range of desserts and alcoholic beverages. Being relatively casual places and offering a very friendly atmosphere, these options are suitable for families, small groups, people on the run...
Gourmet and gastronomic restaurants will them offer at least one fixed price menu (or more) and you will also need to allow yourself a higher budget. These menus generally feature a refined starter, a salad or vegetables served separately, a gourmet main course with fine regional produces (with option of meat or fish dish - or both), a cheese dish and a delicate dessert.
For most of these restaurants the menu will varie according to each seasons in order to adapt the produces best and present seasonal ingredients (mushrooms in autumn, asparagus in spring, truffles in winter, strawberries in summer...).
 
In most of our Loire Valley Tours, the breakfasts, lunches and dinners are included. Our promise is that you should not need to reach into your pocket once you have arrived. Please have a look at our Loire Valley Gourmet tour.
---